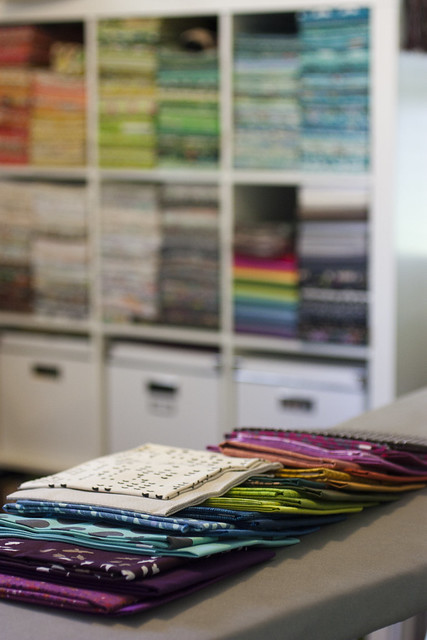 Last fall, I participated in two different mini quilt swaps. The first was our guild's popular "Super Stalker Mini Quilt Swap" in which each member draws a name and then has two months to make a quilt that would fit their partner's interests and tastes.
I drew
Hayley's
name. We are both book and rainbow nerds, so I pulled together a collection of rainbow prints and coordinating peppered cotton solids to make a rainbow bookshelf quilt for her.
Hayley and I just so happened to draw each other's names in the swap and she made me the most beautiful Celestial Star mini.
The second swap was the Quiltcast Podcast Mini Star Quilt Swap. I was very stumped as to what to make my partner. She listed minimal information about her interests and had no online presence (blog, pinterest, instagram, etc.). If I ever join another online swap, I will make sure that the requirements involve at least making an inspiration board of 3-5 images. It's so tough for a planner like me to know what to do without a particular style or direction from which to work!
My partner listed her favorite color combination as orange, aqua, and teal, so I took those three colors and made a paper-pieced star. I used Elizabeth Dackson's
Lucky Stars Block of the Month paper-pieced star collection
for this. I saw her
finished mini quilt for November, the Arcadian Star
, and copied some of her free motion quilting techniques on my star.
My partner,
Monica
, sent me the nicest double-sided mini! Her paper piecing is so impressive and I just love the organic lines she used for quilting. She also included some embroidery floss to feed my cross stitch addiction and two sweet mini charm packs.
I've hung both quilts in my sewing room and it's so fun to see beautiful inspiration around me as I sew (or just stare at my pretty collections of things, if I'm being honest with myself!)